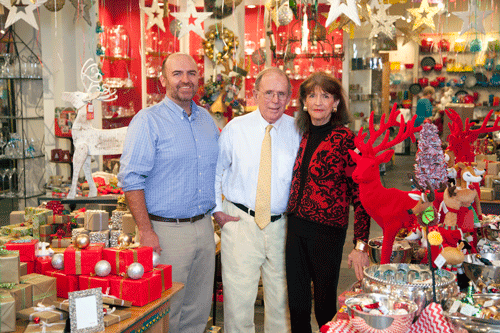 Giving to others has always been one of the hallmarks of our generous society. When it comes to birthdays, anniversaries, seasonal holidays, retirements and especially the celebration of impending nuptials, to many '09ers, the procurement of that perfect gift remains a deeply heartfelt activity. Yet while the will may be there, finding that appreciated token can at times be daunting – unless you simply go to Hanley-Wood.
Since 1966 generations of savvy area shoppers have repeatedly relied on this treasured and treasure-filled resource dedicated solely to matching extraordinary items with soon-to-be thrilled recipients, while, of equal importance, making the entire process of acquisition a joy as well. And that's just what this eclectic emporium has been doing for decades – pleasurably purveying appropriate gifts that really do rise to all occasions.
Fifty years ago, seven determined South Texas women tired of having to travel to New York to purchase high-quality merchandise not readily available in San Antonio. Their shared vision was to create a personal store where each could have access to the higher-end product lines they all desired. Hanley-Wood was established with its moniker deriving from the maiden names of two of the founders. And remarkably, even though the septet didn't comprise seasoned retail professionals, through sheer tenacity they were able to develop relationships with some of the most fashionable East Coast (and beyond) representatives and manufacturers. Opening initially in a small space near the intersection of Broadway Street and Mary D Avenue, the somewhat unorthodox business flourished — surprising and delighting the owners and the public alike.
Over time, the store became known for offering traditional lines of fine china, silverware, linens and other elegant tabletop items. In 1985, after Hanley-Wood was acquired by longtime Terrell Hills residents Annabell and George Ames, its product mix began to further expand, resulting in more diverse offerings. At the time of purchase, Annabell owned and operated the popular Apropos gift shop, also located on Broadway. Apropos was recognized for its less staid, more contemporary and more amusing inventory. Eventually, the two separate stores naturally and inevitably joined forces and evolved into the multi-faceted Hanley-Wood that patrons now enjoy. And obviously, based on current sales, it's proved to be a wonderful, complementary mix.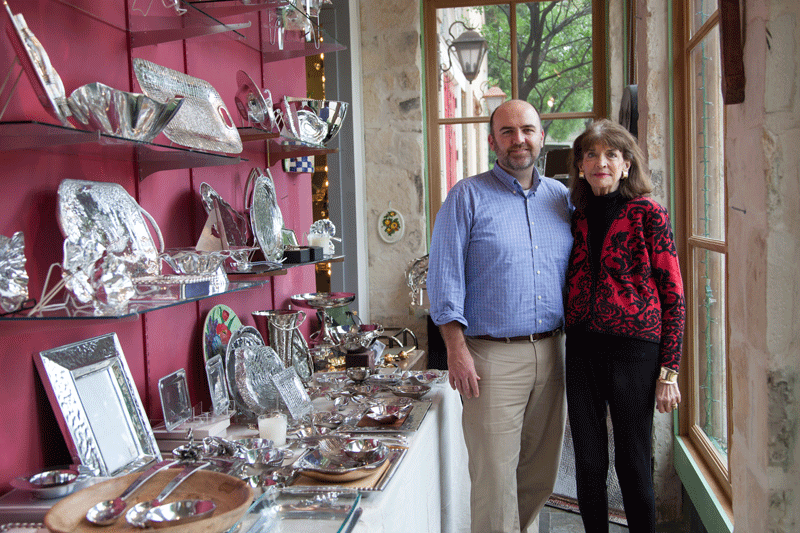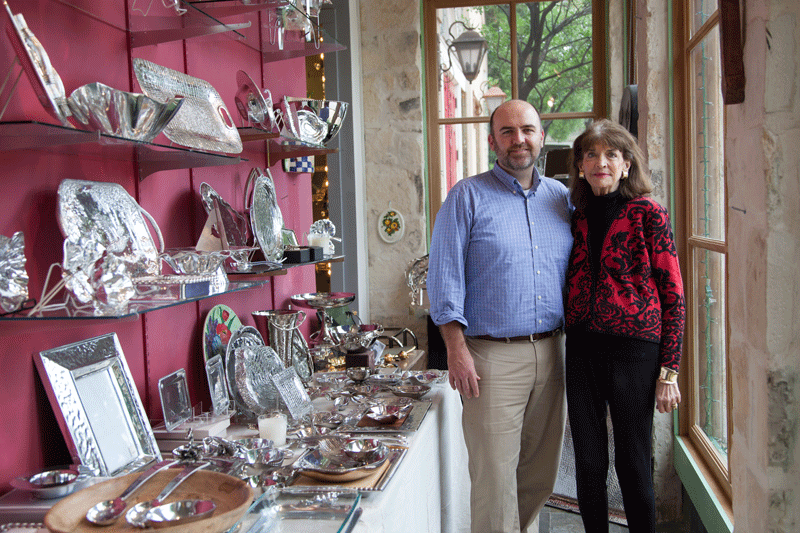 On visiting today's Hanley-Wood, located at 5611 Broadway, just a few blocks north of its original location, shoppers still delight when encountering display after display of elegant wonderment. The building, basically a 7,000-square-foot showroom bright with natural light, was built in 1989 by the Ameses specifically to house the business. Once inside, visitors are invited to stroll among exquisite examples of classic china, crystal and sterling silver featuring patterns bearing legendary names such as Baccarat, Waterford and Royal Crown Derby. Multiple bridal registry place settings are artfully arranged, not only to reflect a betrothed's selection but to illustrate how different wares can and do enhance each other when used in combination.
And there's so much more. Thanks to the Apropos influence, additional high-quality decorative and functional inventory beckons, including colorful cookware, picture frames, lamps, men's items (knives and such), luggage, linens, pottery, games and toys and, depending on the time of year, lots of fun seasonal offerings. Annabell, as the store's primary buyer, ensures that there really is something for everyone.
But the inventory, while impressive, is only part of the experience. To enhance the shopping process, Hanley-Wood is blessed with many veteran employees whose primary role is not only to assist and advise but especially to make a customer's visit to Hanley-Wood productive and satisfying as well. And they are very good at it, as Hanley-Wood's repeat clientele, much of it second- and third-generation, will gladly attest. On the management side, while Annabell is still the commanding company head and George remains very much involved, son George Scott Ames has happily come on board as well, overseeing operations that include the establishment of the store's user-friendly and constantly updated website.
With an appreciation for its past and an eye to the future, it's a pretty good bet that the Ames' Hanley-Wood will remain the 78209 destination for any and all gifts that must always rise to the occasion!
BY ERNIE ALTGELT 
PHOTOGRAPHY BY ELIZABETH WARBURTON
FROM: https://78209magazine.com/featured/hanley-wood